THE GULF WILD TEAM
The Gulf Wild team is comprised of passionate and caring individuals who come from a variety of professional backgrounds including fishermen, environmentalists, seafood distributors and restaurateurs. They share an unwavering desire to improve the quality and sustainability of fisheries throughout the Gulf of Mexico and strengthen the commercial fishing industry.
GULF WILD STAFF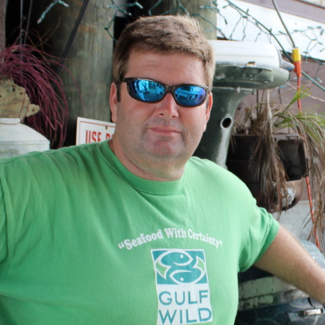 Jason DeLaCruz
Executive Director, Gulf Wild
Jason has been fishing since he was 5 years old. Starting out as a recreational fisherman, he has worked as a professional spear fisherman as well as an owner operator of commercial fishing vessels. He became actively involved in the fishery management process when he became a member of the Shareholders' Alliance and accepted a position as Vice President working to protect the fishery he loved.
During his time on the Shareholders' Alliance Board, he helped develop and implement the Gulf Wild brand. Knowing that actions speak louder than words, Jason's company - Wild Seafood Co. - adopted the principles and guidelines of Gulf Wild so that it could provide the highest quality, responsibly harvested seafood, to the nation.
Jason is the first Executive Director of Gulf Wild. In this capacity, he drives brand development, awareness and support. At the same time, he supports commercial fishermen who are dedicated to protecting fisheries in the Gulf of Mexico; committed to responsible harvest of their catch; and interested in innovative measures of seafood conservation.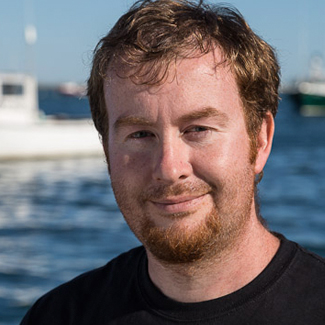 Eric Brazer
Interim Deputy Director, Gulf Wild
Starting out on his father's commercial lobster boat in Maine, and with a Bachelor's degree in Environmental Studies from Brown University as well as a Master's degree in Coastal Environmental Management from Duke University, Eric Brazer brings a wealth of fisheries experience to his position as Deputy Director of the Shareholders' Alliance. He began working with the Shareholders' Alliance in October of 2013 after having spent nearly 10 years working with the Cape Cod Commercial Fishermen's Alliance in Massachusetts. During that time, Eric led the charge for a responsible quota management program in New England's traditional groundfish fishery and was one of the first Sector Managers in New England to look after a groundfish harvesting cooperative of more than 50 fishermen.
Eric works closely with the Executive Director and Board of the Shareholders' Alliance to protect the commercial fishery and the resource that fisherman and consumers rely on. Together they are working to build solutions to today's fishery problems.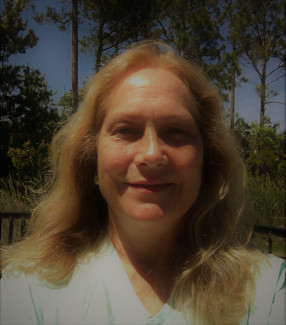 Nancy Goodhope
Staff
Nancy has a B.A. in Environmental Science from the University of Florida with Minor Degrees in Agricultural Law and Agricultural and Natural Resource Ethics. She has more than 19 years of progressive experience in environmental and conservation fields. Her current position is administration work with the Gulf of Mexico Shareholders' Alliance, The Reef Fish Conservation and Education Foundation, the Gulf of Mexico Fishery Quota Holdings, LLC and Gulf Wild. Nancy's prior experiences have been as a Wildlife Biologist with the Florida Wildlife Conservation Commission doing habitat restoration and as Project Manager for a Florida environmental consulting firm.
Nancy is very pleased to be working with hard working, passionate fishermen and their associates on such good causes as sustainable fisheries, promoting the Commercial Individual Fishing Quota Programs, the reduction of discarded non-target fish and the branding of quality seafood from the Gulf of Mexico.
BOARD OF DIRECTORS
CONSERVATION STANDARDS COMMITTEE
OUR CAPTAINS
Gulf Wild owes much of its success to the professionalism of the individuals who operate fishing enterprises throughout the Gulf of Mexico. These fishermen are passionate about the integrity and sustainability of their industry as well as the authenticity and quality of the fish they bring to market. Here is a brief look at the captains who bring Gulf Wild seafood to your table:
JOIN OUR TEAM
Full Time Positions at Gulf Wild
All current openings are detailed below. Applicants interested in applying for any of these positions should send their resume and cover letter along with three professional references to info@mygulfwild.com.
There are no openings at this time.
Internships at Gulf Wild
Interns play a vital role at Gulf Wild, across all aspects of our work – from the dock, to the web, to our funding outreach. As a non-profit focused on conservation, we understand that taking care of our employees is as important as taking care of our environment.
Each intern will receive full access to the Ocean Conservation Careers online course as well as our ongoing training membership program. This ensures all employees have the tools and skills they will need while working at Gulf Wild and into their careers in the future.
All current openings are detailed below. Applicants interested in applying for any of these positions should send their resume and cover letter along with three professional references to info@mygulfwild.com.
There are no openings at this time.